Our staff is experienced, educated and eager to answer any questions you may have about your pet's health. We are committed to finding the best solution(s) for both you and your pet(s).
However, sometimes pet owners want to educate themselves to a greater degree about certain conditions, concerns and questions about their pet and his/her health at their own pace and depth. We respect that.
With that being said, however, the internet abounds with information that is not sound or even correct. So, we would like to offer the following sites as prudent, science based sources of pet health information.
Happy hunting! Knowledge is power!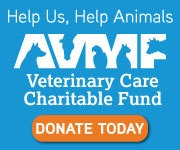 Through the American Veterinary Medical Foundation's Veterinary Care Charitable Fund,
our clinic is able to help animals rescued from abuse and neglect and the pets of clients facing personal hardships. Your donations to the AVMF on behalf of our clinic will help us help animals. Click on the AVMF donate button to make your tax deductible donation.

Royal Canin is a global leader in pet health nutrition. Their mission is to constantly bring, through Health Nutrition and shared knowledge, the most precise nutritional solution for cats' and dogs' health nutrition needs, by building on constantly deepened scientific knowledge and Royal Canin's roots in the feline and canine professional networks.


The American Veterinary Medical Association is the trusted leader in protecting, promoting and advancing a strong, unified veterinary profession that meets the needs of society. Its mission is to lead the profession by advocating for its members and advancing the science and practice of veterinary medicine to improve animal and human health.



VeterinaryPartner.com serves as a support for veterinarians and you in the care of your companion animals by providing reliable, up-to-date animal health information from the veterinarians and experts of the Veterinary Information Network (VIN), the world's first and largest online veterinary database and community.